The Stripe Payments Plugin for WordPress allows you to accept credit card payments for both physical and digital products through the Stripe payment gateway.
This plugin has options to create products using a simple short code on a post/page or alternatively filling out fields under the 'products' menu. Payments received through the Stripe payments plugin can then be viewed by admin under the 'orders' menu.
This plugin works well with all sites as it gives you the flexibility to embed a simple shortcode to sell your products from any post or page.
WordPress Stripe Payments Plugin: General Usage
Installation
Ensure you have downloaded and installed the latest version of the Stripe Payment Plugin. Once you have installed the plugin a "Stripe Payments" tab will show up on the sidebar of your website's dashboard. If you don't already have a Stripe account you will need to create one – it's free.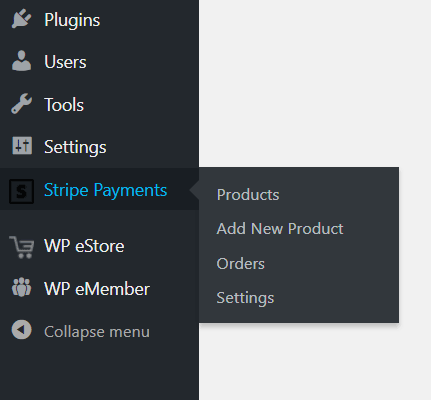 General Configuration
To be able to successfully sell products you will first need to configure your API credentials. Click on the 'Stripe Payments' tab and then half way down under the 'Settings' menu you will see 'Credentials'. If you want your site to be live, ensure you tick the 'Live Mode' checkbox. Enter in both your 'Stripe Publishable Key' and your 'Stripe Secret Key' (these can both be found in your Stripe account's API menu field). Ensure you 'Save Changes'.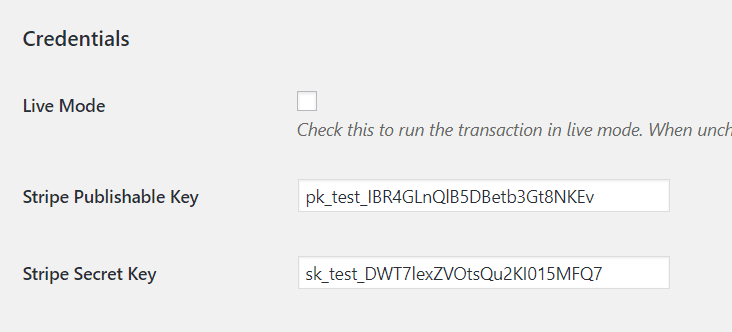 Ensure you have the correct currency and email address entered into the settings fields.
Creating a Product for Sale Using the Stripe Plugin
Step 1) Go to "Add New Product" link under the "Stripe Payments" menu.
Step 2) Add a product title and description (if you wish)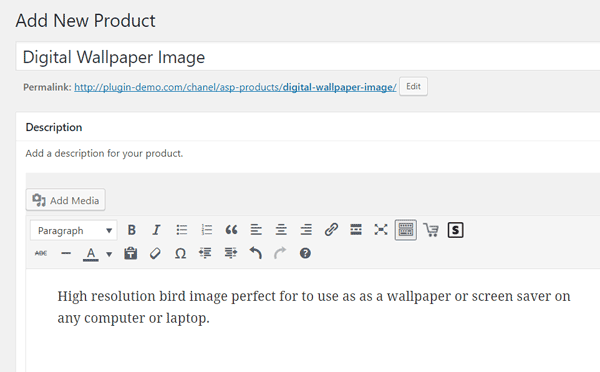 Step 3) Enter in the price of your item and ensure the currency is correct (default currency will use the selected currency in the Settings menu).
Step 4) If you are offering a downloadable item, upload the file under the Download URL field using the select file button or alternatively paste the URL of your downloadable file into the field.
Step 5) If you wish to add a product thumbnail and customize button text you can find these fields towards the bottom of the 'Add New Product'
Step 6) Once you have filled in the product details make sure to save your product by clicking the Save or Publish button. The Publish button is in the right hand corner.
Your published products will then show in the 'Products' tab under Stripe Payments dashboard menu.

Your product's shortcode can be found within the product details table. This shortcode can be copied and pasted into any post or page on your website where it will create a Stripe Buy Now button. Keep in mind, a page will be created automatically for your product once you publish your product also.
Testing Your Product's Buy Now Button
Step 1) Click on your created products 'Permalink'.

Step 2) Your created product page will look similar to this test product below (depending on the details you have added in). This product page will have a buy now button that will enable your customers to pay for the item.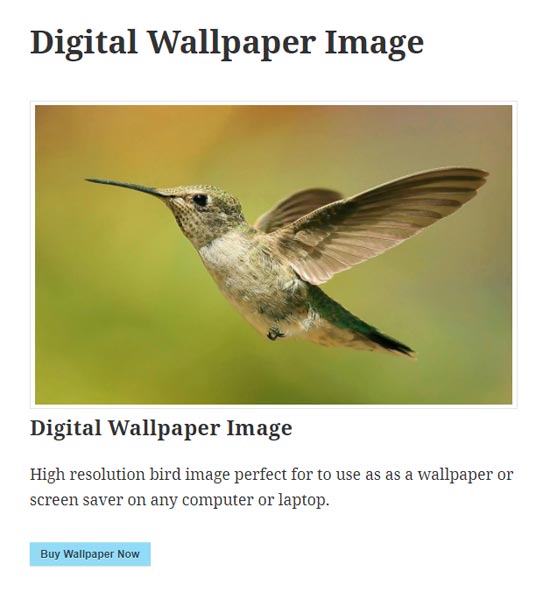 Step 3) Successful payments of a product will then show up under the 'Orders' menu of the plugin.
Completing a Transaction
After a successful transaction your customer will be shown a thank you message with the download link of the item (if you are selling a digital product).
Site admin will be able to see the customer's order, under the Orders menu in the Stripe Payments plugin.
Embedding Products into a Post or Page
Once you create a product, you can put that product on any WordPress post or page also. Simply use the shortcode of the product to put it on a page. Read the embedding a product on a page tutorial to learn how to do that.