The update checker addon plugin checks if any update is available for any of the addon(s) for the Stripe payments plugin.
We continually work on improving the addon functionalities over time. Also, on rare occasions, we will patch any security related issues as soon as we are aware of it. So it is important that you use the latest version of the addons.
When to Use this Update Checker Plugin?
Use this plugin if you are using one or more addons of the Stripe payments plugin. This will allow you to update the addons from the plugins menu of your admin dashboard (when a new update is available).
Download the Update Checker Plugin
Click here to download the update checker addon plugin.
Installing the Plugin
Click on the Add New menu under the plugins interface.
Click on the Upload Plugin button and select the zip file of the plugin.
Hit the Install Now button and then activate the addon.
Entering the License Key
You can get the license key of your purchase from this page. Enter the license key in the settings menu of the update checker addon.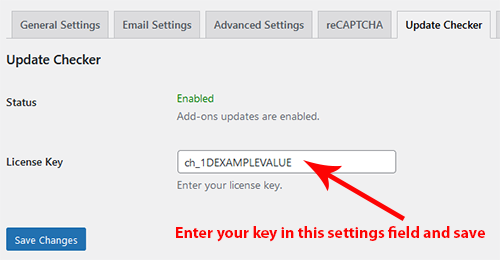 Keep the update checker plugin active and it will allow you to update any addons (when an update is available).