The reCaptcha addon allows you to further protect your Stripe payment buttons from spam bots.
When you enable this addon, the reCaptcha popup will appear when customers click a Stripe payment button. They will simply need to check a box that confirms they are human. This prevents robots from abusing the payment button on your site.
Download the reCAPTCHA Addon
Click here to download the addon.
Configuring reCaptcha on Your Website
Configuring this plugin is simple and hassle free. Follow the steps below to configure reCaptcha on your website.
Install and activate reCaptcha for Stripe Payments on your website.
Click on the 'Stripe Payments', 'Settings' menu.
Click on the 'reCaptcha' tab which will have appeared after you activated this addon.
Mark the checkbox to enable reCaptcha on your website.
To use reCaptcha, you will need to enter in your Google reCaptcha API details. If you have not already, you can find your API details here.
Once you have entered in your 'Site Key' and 'Secret Key' simply click the 'Save Changes' button. Now your customers will need to complete reCaptcha prior to checking out.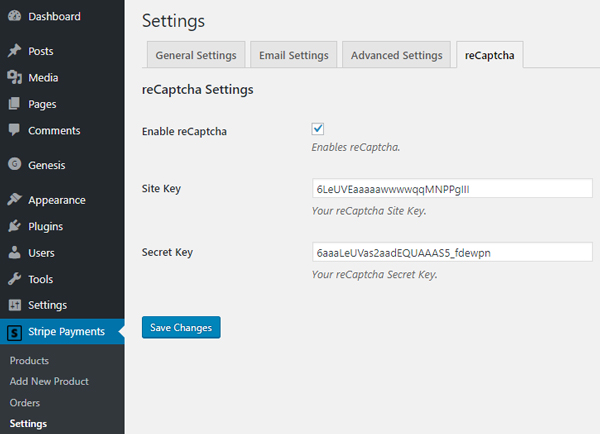 Customer's View when reCaptcha is Enabled
Once reCaptcha is enabled, anyone wishing to proceed to the checkout will need to select the reCaptcha checkbox. Checking the reCaptcha box is simple and hassle free for your customers although prevents bots from spamming your website.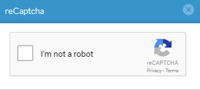 Below is an example of what a customer would see when proceeding to checkout on a reCaptcha protected website. ReCaptcha will appear on all products created using Stripe Payments when this addon is enabled.