The Stripe Payments Plugin comes with the option to enable Terms and Conditions. Admins can use this feature to add a Terms and Conditions page or a Privacy Policy which the customers must accept prior to purchasing a product. Enabling this feature gives you the opportunity to disclose to your customers how their personal details will be handled before they make a purchase.
Once you enable the Terms and Conditions feature, a checkbox will be displayed on all the payment form.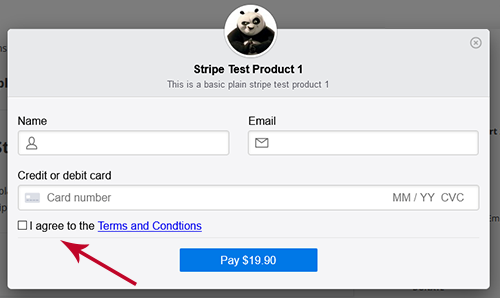 Enabling Terms and Conditions
To enable terms and conditions on your website you will need to have the Stripe Payments Plugin installed and activated.
Click on the Stripe Payments, Settings menu.
Once in the Settings menu, choose the Advanced Settings tab.
You will now see a section titled Terms and Conditions.
To enable Terms and Conditions mark the checkbox. By default, terms and conditions are not enabled.
In the Checkbox Text field is where you can customize your sites terms and conditions (read more about customizing T&C's below).
Ensure you Save Changes once you have configured your Terms and Conditions.

Customizing the Terms and Conditions
Prior to editing the terms and conditions field it should read:
I accept the <a href="https://example.com/terms-and-conditions/" target="_blank">Terms and Conditions</a>
The Checkbox Text field accepts HTML code so this allows you to add a link to your T&C's page. To add a link to your terms and conditions page you simply replace the URL above to the URL of your desired page. This means that you can state all your terms and conditions or even a privacy policy in one simple page. Your potential customers can then read this page before agreeing to your terms and conditions.
Further more, you can edit the text within the Checkbox Text field. By default, it reads 'I accept the Terms and Conditions'. For the majority of sites this text can be left although you may wish to customize the text to read 'I accept the Terms and Conditions and Privacy Policy'.
In the default terms and conditions text, the page is linked to the words Terms and Conditions. Your customers can click there to be shown the terms and conditions page.
How will My Customers Agree to Terms and Conditions
Once you have enabled the terms and conditions feature on your website, each of your Stripe Payments product checkout will have a checkbox. Your terms and conditions page will also be linked to the text next to the checkbox. A customer cannot purchase a product until they have agreed to the terms and conditions.