The Alipay Addon for the Stripe Payments Plugin gives you the ability to accept payments via Alipay on your website. Once you enable the Alipay feature, an additional payment option will appear next to the standard credit card checkout option. Customers then have the choice to proceed to pay with their credit card or use Alipay.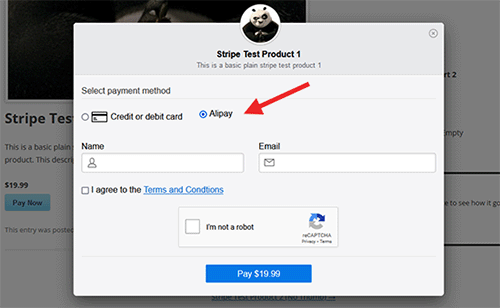 Important: in order to be able to accept Alipay payments in Live mode, your website must use valid SSL certificate (e.g. should be served via HTTPS).
Note: This documentation was carried out in Alipay test mode.
What is Alipay?
Alipay is the most popular payment method in China. While most of us from the United States are familiar with Stripe or PayPal, many people from China would be more familiar with Alipay. Alipay allows Chinese consumers to pay online through a gateway that transfers from their bank account. The Alipay Addon for Stripe Payments allows a business owner to accommodate for the 520, 000, 000 users of Alipay.

Installation and Activation
You will need to have both the Stripe Payments Plugin and the Alipay Addon installed and activated on your WordPress site.

Enabling Alipay for Stripe Payments
Step 1) Before you enable Alipay in your WordPress account, you will need to activate the Alipay option in your Stripe account.

Now that you have activated Alipay in your Stripe account, you will need to enable the feature in WordPress.
Step 2) Click on 'Settings' under the 'Stripe Payments' menu.
Step 3) Once in the general settings, click on the 'Alipay' tab.

Step 4) Tick the 'Enable Alipay' checkbox to enable this feature.
Step 5) Ensure you 'Save Changes'.
How Does a Customer Checkout with Alipay?
Once you have enabled Alipay your customers will see an additional payment button on all of your products/services. This additional button sits beside the 'Buy Now' button and features the Alipay logo.
Once a customer clicks the Alipay payment button they will be prompted to enter their email address and then their Alipay account details. After a successful transaction, they will be directed to a payment details page as normal. The steps your customer would follow are demonstrated in the examples below.
Step 1) Customer Select the Alipay Payment Option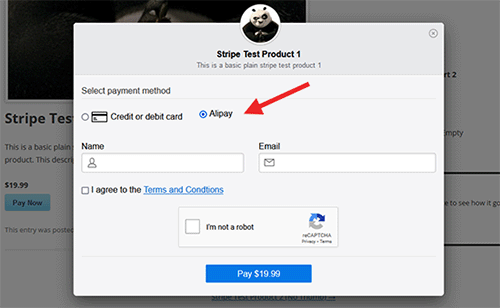 Step 2) Customer Enters Email Address and Alipay Details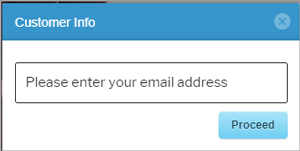 Step 3) After a Successful Transaction the Customer is Directed to the Checkout Results Page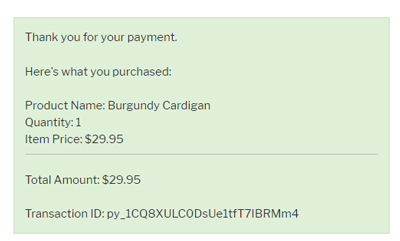 Get the Alipay Addon
The Alipay addon is part of our premium addon bundle collection. Get access to all our premium addons for the Stripe Payments Plugin, auto-updates, and guaranteed support.
Click on the following banner to learn more about the addon bundle.