The Google Analytics E-Commerce Tracking addon allows you to do ecommerce tracking for our Stripe plugin transactions.
You can view the transaction parameters in your Google analytics account.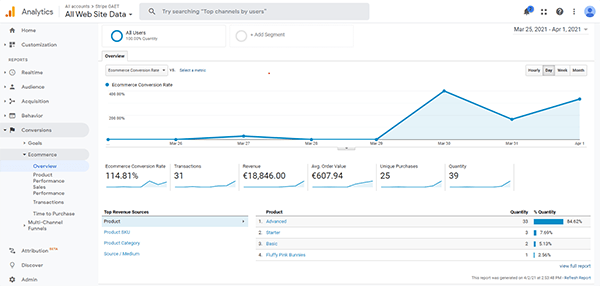 Note: This works with the standard Google analytics universal tracking.
Step 1) Installing the Ecommerce Tracking Addon
You can install this addon the same way you install any WordPress plugin from a zip file.
Once you have purchased the addon from the bottom of this page, you will be able to do the following:
Click on the Add New button under the Plugins menu.
Click on the Upload Plugin button.
Choose the Addon File (the zip file of the addon).
Click the Install Now button.
Activate the plugin.
Step 2) Configuration of the Analytics Tracking Addon
To configure the addon for Stripe Payments, follow the instructions below: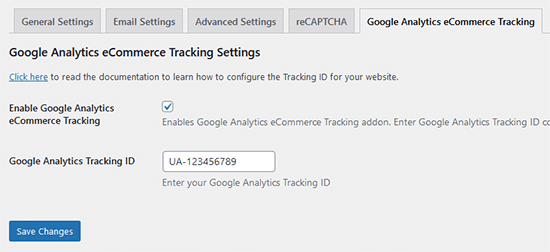 Step 1) The Analytics Tracking addon menu can be found by clicking on the Settings menu under Stripe Payments.
Step 2) Click on the new tab titled Google Analytics eCommerce Tracking.
Step 3) Check the Enable Google Analytics eCommerce Tracking checkbox.
Step 4) Enter your Google Analytics Tracking ID in the appropriate field. This can be found in your Google Analytics account.
Read this tutorial from Google if you don't know how to get your Tracking ID. The Google Analytics Tracking ID usually looks like the following:
UA-1234567
Step 5) Click the Save Changes button.
The new transactions should now be tracked in your Google Analytics account.
Note: It can take 24 to 48 hours for the transactions to show up in your analytics account.
Get the Analytics Tracking Addon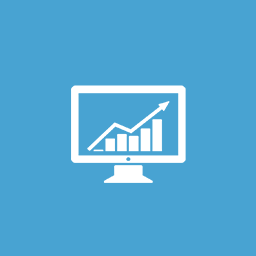 Stripe Google Analytics Ecommerce Tracking
This addon can be used alongside the Stripe Payments Plugin to allow ecommerce transaction tracking using Google analytics.
Take a Look at Our Addons Bundle
Get access to all our premium addons for the Stripe Payments Plugin, auto-updates, and guaranteed support.
Click on the following banner to learn more.